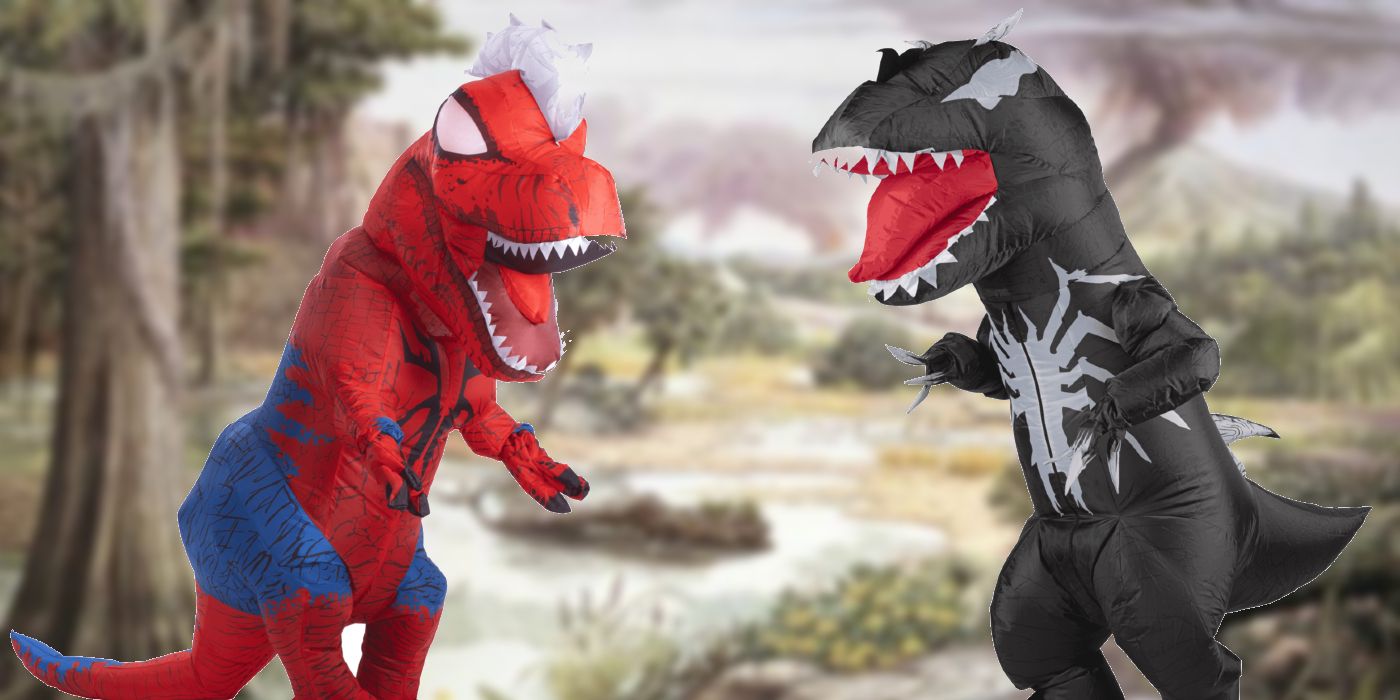 Comics titan Marvel is already prepping for the Halloween season with the debut of their latest must-have costumes: inflatable Spider-Man and Venom T-Rex outfits! Halloween is a big time for groups like Marvel and DC. With an endless line of amazing characters that have enthralled fans for decades, being able to dress up as them at conventions and on the spookiest night of the year is a fun opportunity. There have been countless fun costume designs over the years, but Marvel has officially outdone themselves with a new outfit based on their next big hit character.
In June 2022, Marvel unveiled their epic new Spider-Verse hero, Spider-Rex. This monumental Marvel moment sees the Webhead become a dinosaur as he goes on prehistoric adventures. Not much is known about what the Cretaceous hero will be doing in their first issue at this time. Aside from a first look at their design in the announcement, their backstory, and the world around them is being kept under wraps by Marvel until their official debut in Edge of Spider-verse #1 in August. However, an exciting reveal at this year's San Diego Comic-Con (SDCC) is giving fans not just a first look at their next big Halloween costume but also what lies in store for the new hero.
Related: Spider-Man Cosplay Unlocks Peter Parker's Rage as a Red Lantern
According to Marvel in a press release, costume group Jazwares is unveiling the ultimate Marvel take on the iconic inflatable T-Rex costume by giving it a Spider-verse twist. There will be two different types that feature Spider-Rex and his newly revealed nemesis Venomsaurus. Both outfits are made out of inflatable Nylon with face windows above their respective costume symbols to make tearing through the streets far easier to see. Both outfits come with clawed gloves to give wearers the option between defending "the Savage Land from Venomsaurus" or "complete the terrible transformation" into Venomsaurus themselves.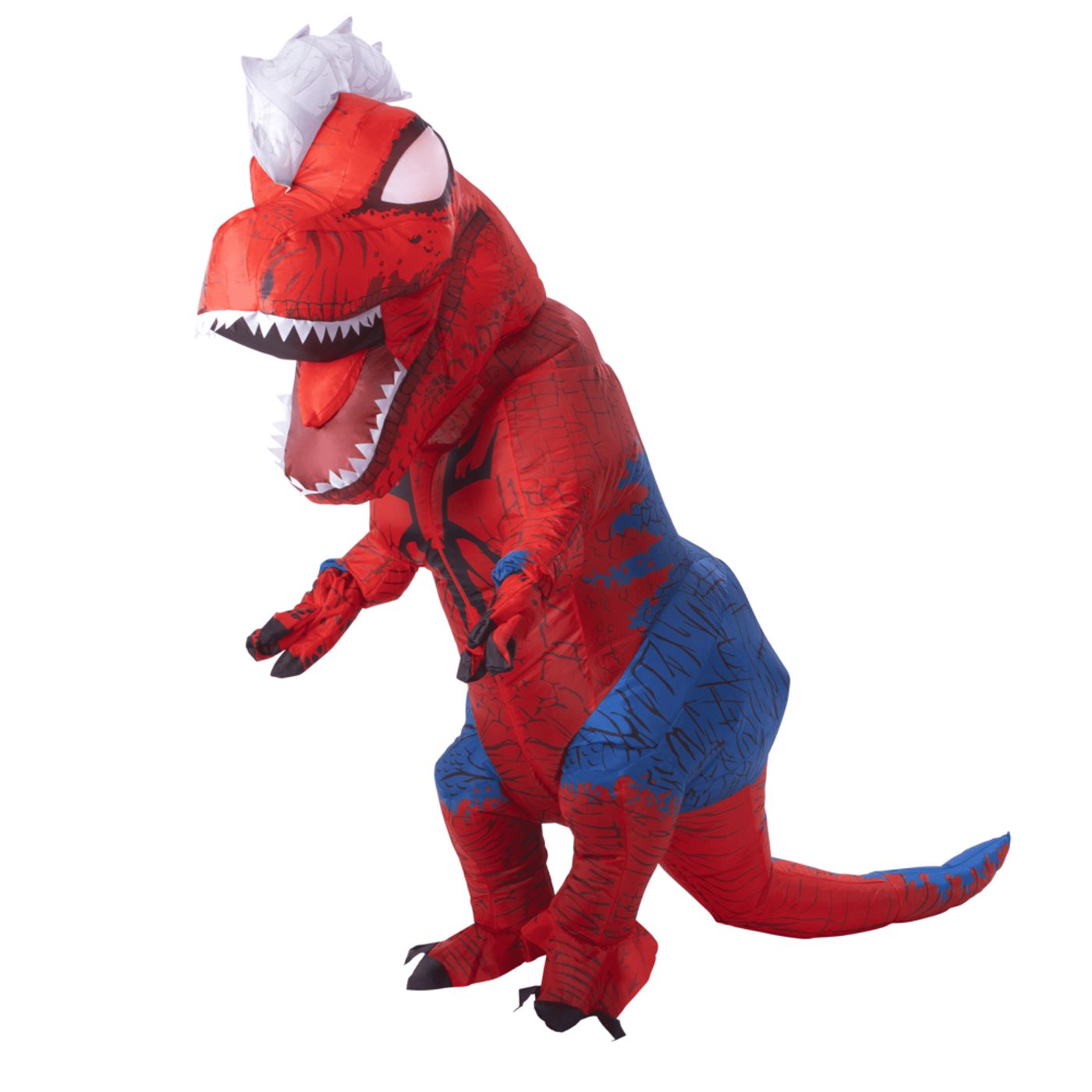 What's truly amazing about this reveal is that it's not just an announcement of another cool costume that people can get to show off their love for Marvel. It's also giving fans a sneak peek of what's to come in Spider-Rex's comic debut before the epic End of the Spider-Verse conclusion. Readers now officially know that Spider-Rex's domain is officially called the Savage Land, cluing them in that they are truly in a time where dinosaurs ruled the Earth. On top of that, their primary villain has finally shown their face with Venomsaurus. Spider-Man has such a large gallery of iconic supervillains, so choosing a dinosaur version of Venom for Rex's first big Marvel battle was an outstanding choice. Venom is one of the Webhead's most popular villains, so giving him a dinosaur form in Edge of Spider-Verse will surely set up an epic first battle.
For fans at SDCC this year, they'll be able to get their hands on these costumes before they make their retail debut this Fall! Both outfits are expected to be priced at $100 each and will be available at Booth #3513. They will also have sneak peeks at other exciting costumes coming this year with a few being featured in Marvel's press release, including an Alligator Loki outfit for the pets of Marvel fans that can go on adorable adventures with them as Thor. Marvel has absolutely outdone themselves with this amazing new costume, and it's sure to be a highlight of the Halloween season for Spider-Man and Venom fans alike.
Next: Spider-Punk Cosplay Brings New Marvel Twist To Spider-Verse Variant
Source: Marvel
Go to Source
Author: Andy Davis