Warning! Spoilers for Spider-Man: No Way Home.
The Doctor Strange in the Multiverse of Madness trailer at the end of Spider-Man: No Way Home suggests Scarlet Witch may become one of the film's villains. Despite restoring the town of Westview and her apparent guilt from her actions in WandaVision, it's likely that Scarlet Witch still has a dark streak as she was seen continuing to embrace her power by the series' end. While she may initially help Strange with whatever threat he's facing in the multiverse, there are a handful of shots in the new trailer which suggest that she may turn against him.
Entitled Multiverse of Madness, Doctor Strange will be dealing with the fabric of reality coming apart, potentially facing the consequences of tampering with space-time in Avengers: Endgame as well as the multiversal villains that were inadvertently summoned to the MCU thanks to Strange's botched spell seen in Spider-Man: No Way Home. However, the first trailer for Doctor Strange 2 featured after No Way Home's credits sees Strange visiting Wanda Maximoff. Rather than confronting Scarlet Witch about Westview, it seems he's there to get her help with his multiversal crisis that will no doubt threaten the stability of the MCU's reality. As a result, it certainly seems as though Wanda will at least start her role in Doctor Strange 2 as an ally. However, it's not out of the realm of possibility to imagine that her powers based in chaos magic could lead her to oppose Doctor Strange.
Related: How Doctor Strange Can Get His Sorcerer Supreme Title Back From Wong
The very reason Scarlet Witch may know about the multiverse prior to Doctor Strange's arrival is likely due to the Darkhold, the book she took from Agatha Harkness at the end of WandaVision. Made from dark matter and known as the Book of the Damned, Wanda was seen at the end of the series reading the book in her astral form when she heard the voices of her children Billy and Tommy (whom she lost when she gave up her control of Westview). As a result, if Wanda had the chance to get her children back, she'd likely take it regardless of the consequences. Furthermore, the Darkhold could become a corruptive force as well where her decisions might not be her own. Combined with some rather menacing and intimidating shots in the trailer of Wanda wielding her chaos magic and levitating above a ring of candles, she could become a dark and powerful threat to Doctor Strange on top of the multiverse coming apart.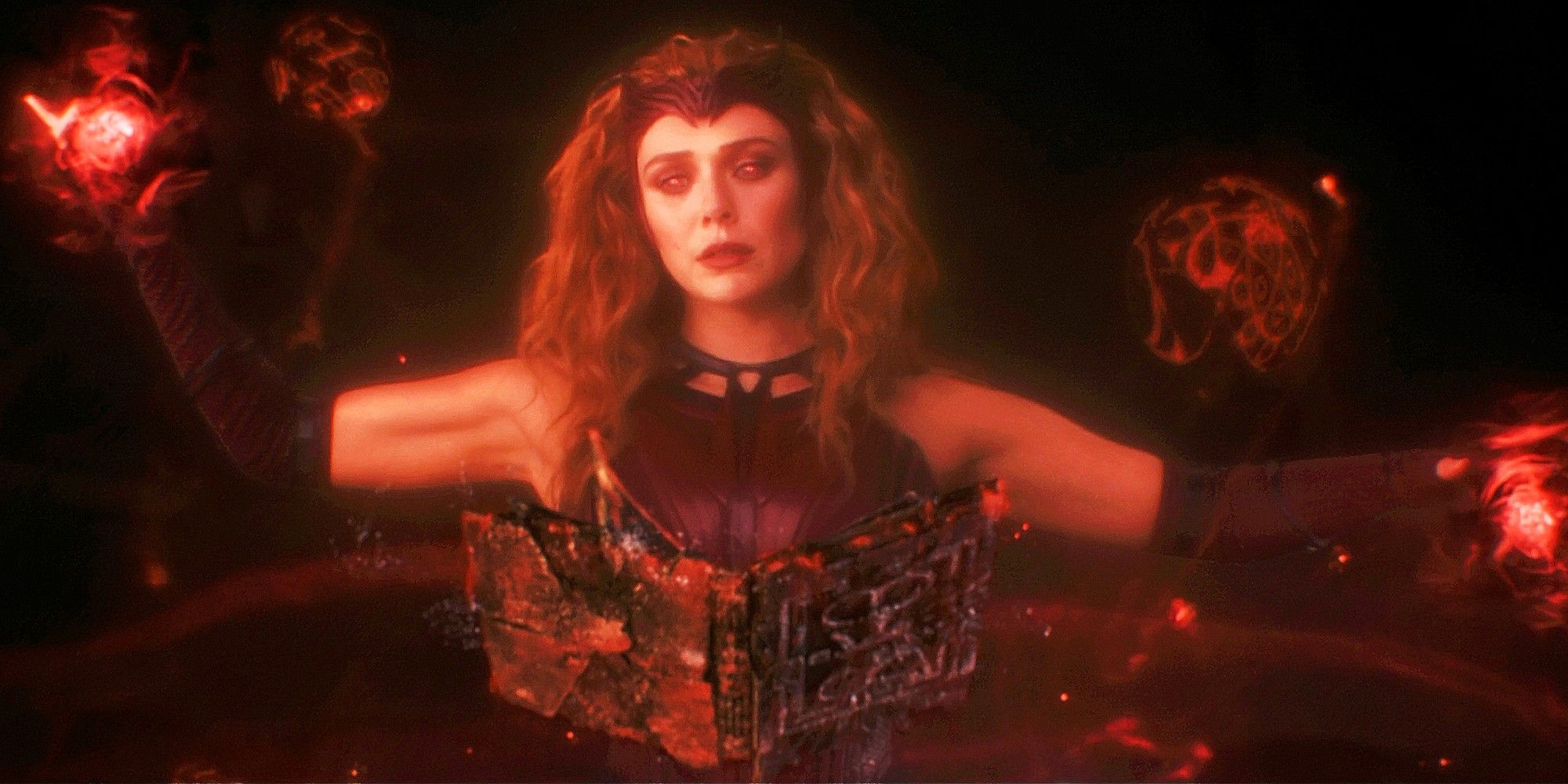 It's also worth noting that Wanda isn't featured in any of the trailer's shots with Doctor Strange and his other allies, Wong and newcomer America Chavez. Furthermore, the chance to have Scarlet Witch engaged in a magical duel with Doctor Strange feels like a cinematic opportunity that would be too good for Marvel Studios to pass up. As such, the odds of Wanda allying herself with Strange and then turning against him as the film goes on feels like a strong possibility for Doctor Strange 2.
While Scarlet Witch is certainly a tortured character in the MCU, she freely admits in the Doctor Strange 2 trailer that she's made mistakes. Unfortunately, she may continue to make similar mistakes so long as she's still using the Darkhold. In any case, whether she remains an ally or becomes an antagonist in Doctor Strange in the Multiverse of Madness, it's clear that the Scarlet Witch will be a force to be reckoned with when the film releases in May of 2022.
More: Doctor Strange Was Evil In No Way Home: All Evidence For MCU-Breaking Theory
Go to Source
Author: Kevin Erdmann