Love Island USA season 3 stars Josh Goldstein and Shannon St Clair spent their first Christmas together as a couple in 2021 and shared various posts on social media during their celebrations. After meeting each other on Love Island USA season 3 episode 1, Josh and Shannon immediately coupled up together and worked on their relationship throughout the season. Just like other day-one couples like Will Moncada & Kyra Lizama and Cinco & Cashay Proudfoot, there was no doubt that Josh & Shannon could potentially win the show.
No one could've seen it coming, but Shannon and Josh's journey on Love Island came to an abrupt end when they heard the tragic news that Josh's sister, Lindsey Beth, had suddenly passed away. But leaving the villa wasn't the end of their relationship. In fact, it seems like it only made them stronger. As of December 2021, Josh and Shannon are one of very few season 3 couples that are still together.
Related: Too Hot To Handle: Carly Lawrence Officially Dating Bennett Sipes
Now, Shannon and Josh have taken their relationship to another level by introducing their parents to one another and spending the holidays together. A seen in the screenshots below, the Love Island USA couple shared many photos and videos enjoying this Christmas season with their combined families. For instance, Shannon filmed Josh wrapping gifts, whereas Josh filmed himself walking with Shannon outdoors. On Christmas Eve, Shannon shared a photo of her family and Josh's family together as they all gathered around the same table. Josh then re-shared Shannon's post via his Instagram Story.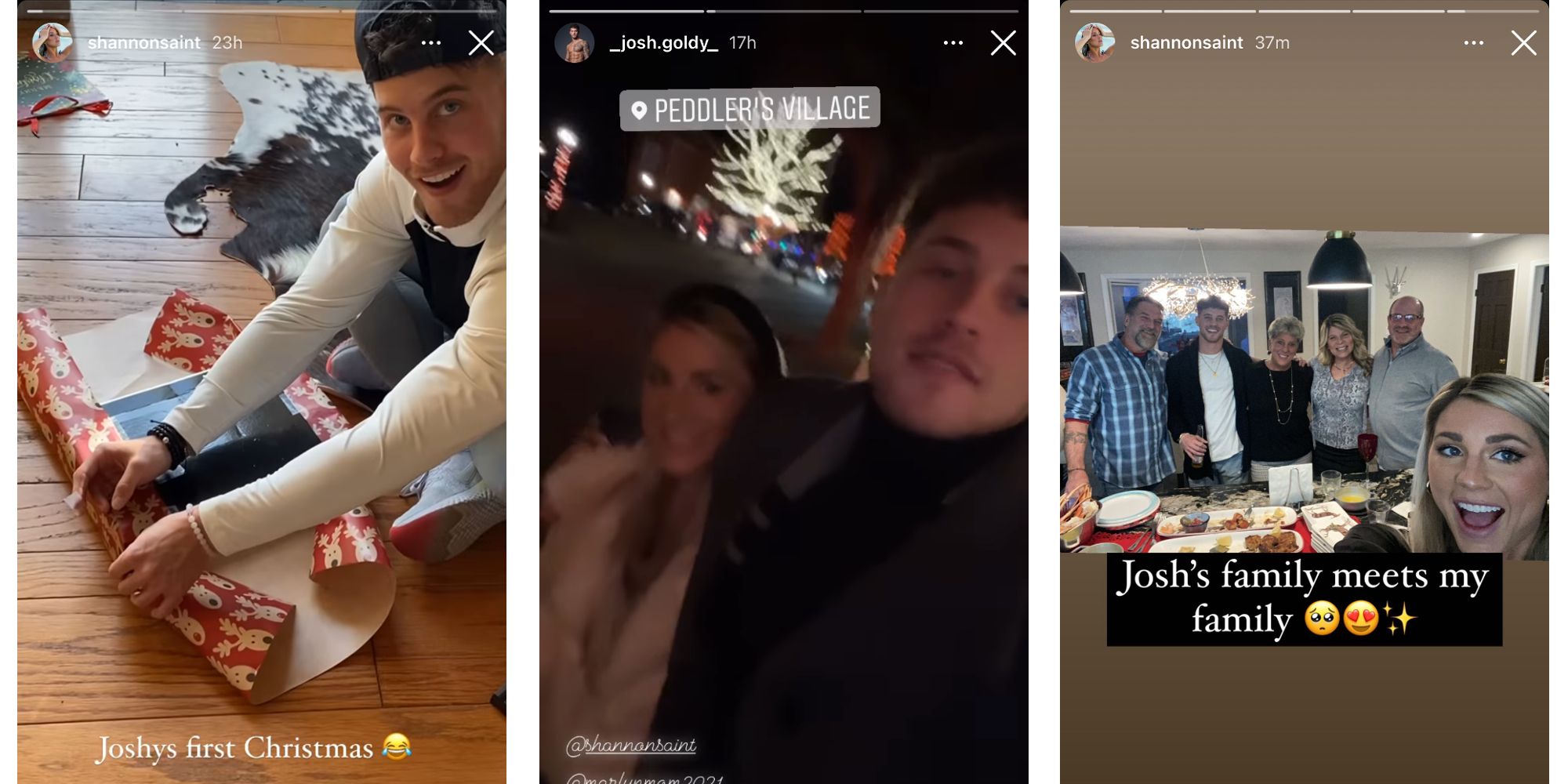 As seen below, Josh and Shannon also shared a few pictures on their respective Instagram grids to show how happy they are to celebrate this Christmas together. The Love Island stars plan to move in together in 2022, so introducing their families to one another and spending such an important holiday together is definitely a major step in that direction. There's no doubt that Shannon and Josh have been building a very solid relationship since leaving the villa, and this is further proof that they are happier than ever as a pair. While there have been numerous high-profile breakups recently within the Love Island franchise, Josh and Shannon don't seem to be going anywhere but up.
After such a roller-coaster of a year for Josh and his family, it is heartwarming to see that he's found some joy to celebrate Christmas with his loved ones, Shannon, and her loved ones as well. Hopefully, 2022 will be an even better year for these Love Island USA stars as they move forward with their relationship. For now, fans will be eagerly awaiting the premiere of season 4 this summer on CBS.
More: Love Island USA: Justine Ndiba Updates Fans On Her COVID-19 Recovery
Sources: Shannon St Clair/Instagram, Josh Goldstein/Instagram
Go to Source
Author: Bernardo Sim