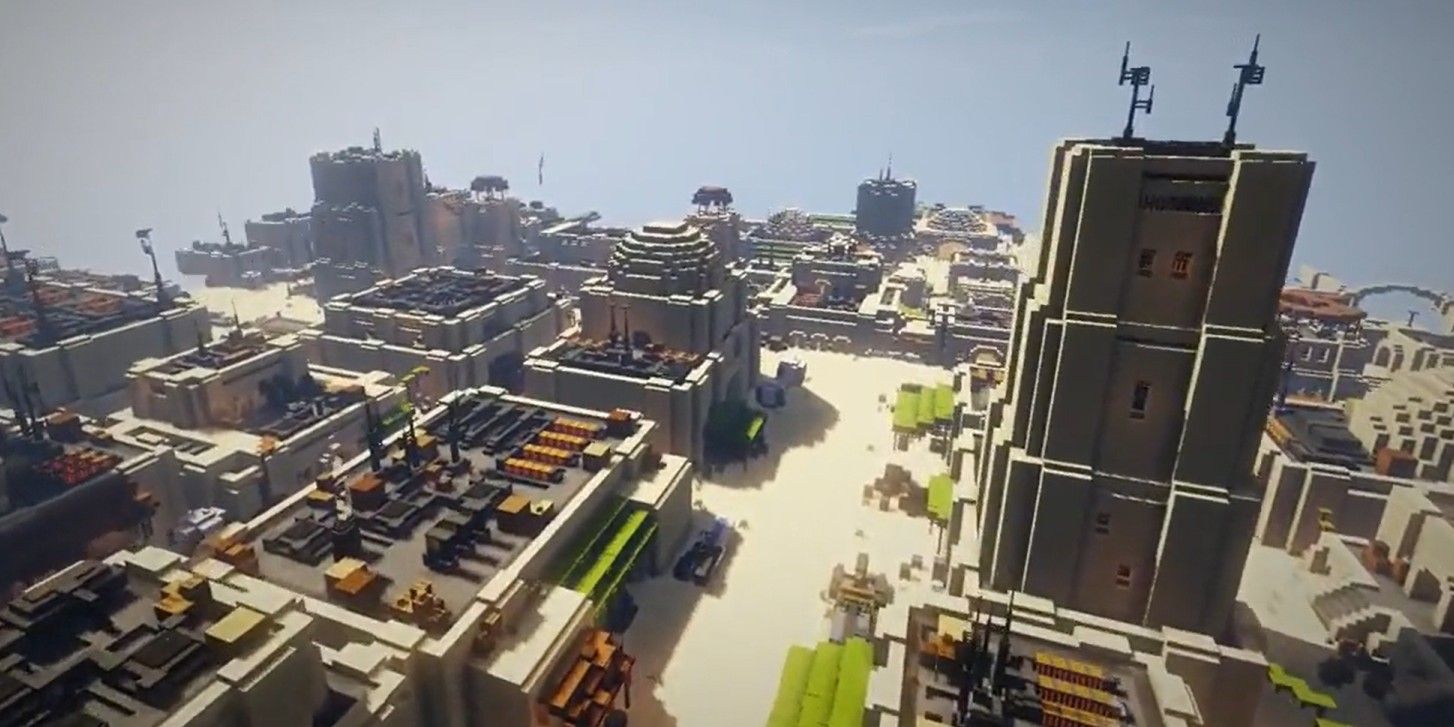 A Minecraft player has recreated Star Wars' Tatooine with a massive and incredibly detailed build, receiving high praise from fans after sharing their map to Reddit. This may not be the first time that a Star Wars and Minecraft build has made waves on the social media platform, but it may well be one of the most impressive Star Wars builds seen in a while, approaching 25,000 upvotes at the time of writing.
Minecraft is still one of the most widely-played and popular video games on the market, despite now being over a decade old. The game's sandbox elements and deep crafting tools have cemented it as a firm favorite for builders and designers, with almost any recreation or unique build possible to make within the game. Minecraft players have been reimagining scenes and settings from movies for as long as the game's been available, recreating everything from the ships and lands of  Star Wars to the stunning buildings of The Lord of the Rings in Minecraft.
Related: Minecraft Dance Dance Revolution Machine Actually Keeps Score
Redditor dillyg10's impressive take on Star Wars' Tatooine in Minecraft has taken the player around a year so far, in part thanks to the detail the user is adding to their huge 4k x 4k map recreation. Showing off some of the builds in their Tatooine, a video from the user takes players on an impressive tour of the 1000-hour creation, showing off everything from the Jundland Wastes to the podracing race track. Minecraft fans have been showering the build with praise, with many surprised that the map didn't take longer to make. Those keen to see more can explore the Tatooine in person via Jedicraft.world.
See the post on Reddit here.
While the Minecraft build is certainly an impressive one, it seems the creator isn't yet done with their map. Responding to a comment on the Reddit post, the user explains they've even made working mobs, designed to look like citizens from Star Wars, which fans may get to see at a later date. dillyg10 hasn't noted what their next plans are for Tatooine and the rest of the Star Wars franchise, but many are hoping to see more Star Wars recreations from the talented builder.
Minecraft fans are currently awaiting the release of the game's next substantial update, Caves and Cliffs: Part 2, which should help keen builders make more realistic worlds when it arrives on November 30. The first part of the update, released this summer, added new ores, minerals, and animal mobs, with Part 2 set to introduce higher mountains, more elaborate cave systems, candles, and more. Unfortunately, not all the previously-announced Minecraft Caves and Cliffs features will be coming with the update, though Mojang has promised they'll be delivered at a later date.
Next: Minecraft Design Ideas For Star Wars Fans
Source: dillyg10/Reddit
Go to Source
Author: Lara Jackson