The iPhone just got access to the powerful Pixelmator Pro photo editing app and it's currently on sale. The app was previously only available on the iPad and features many of the capabilities of the Pixelmator Pro app that is made for Mac computers. The sale price and excellent pedigree make this an app worth checking out for any fan of iPhone photography.
The App Store is filled with some of the best creative apps on the market. While many are geared toward painting and layout, there is quite a variety of high-quality photo editing apps available as well. A few are exclusive to the iPad, making use of the larger and squarer screen format to provide more room for toolbars, information windows, and histograms. Pixelmator Photo launched three years ago and was originally an iPad-only app.
Related: Pixelmator Pro For Mac Is Now Better Than Ever, And On Sale
With the 2.0 version, it's now available on the iPhone as well, bringing all of the same features in a compact interface that works in landscape, as well as portrait orientation. Pixelmator is a well-known Apple developer and the newest update to its Pixelmator Photo iPad app brings iPhone compatibility, so one purchase makes it available for both devices. As an introductory offer, the iPhone app can be purchased from the App Store for $4, half the usual cost. The app also works with Family Sharing as well. Besides the large collection of preset filters and custom AI-fueled adjustments, version 2.0 adds a much improved Photos library browser and image storage system along with a Denoise tool. The new image browser allows quick and easy access, showing a wall of photos with helpful icons that identify if a photo has been edited, if it links to Pixelmator Photo data, and if it's in RAW format. It's a nice update for everyone and particularly good news for iPhone users. Pixelmator posted a YouTube video and sent out an an email with the news.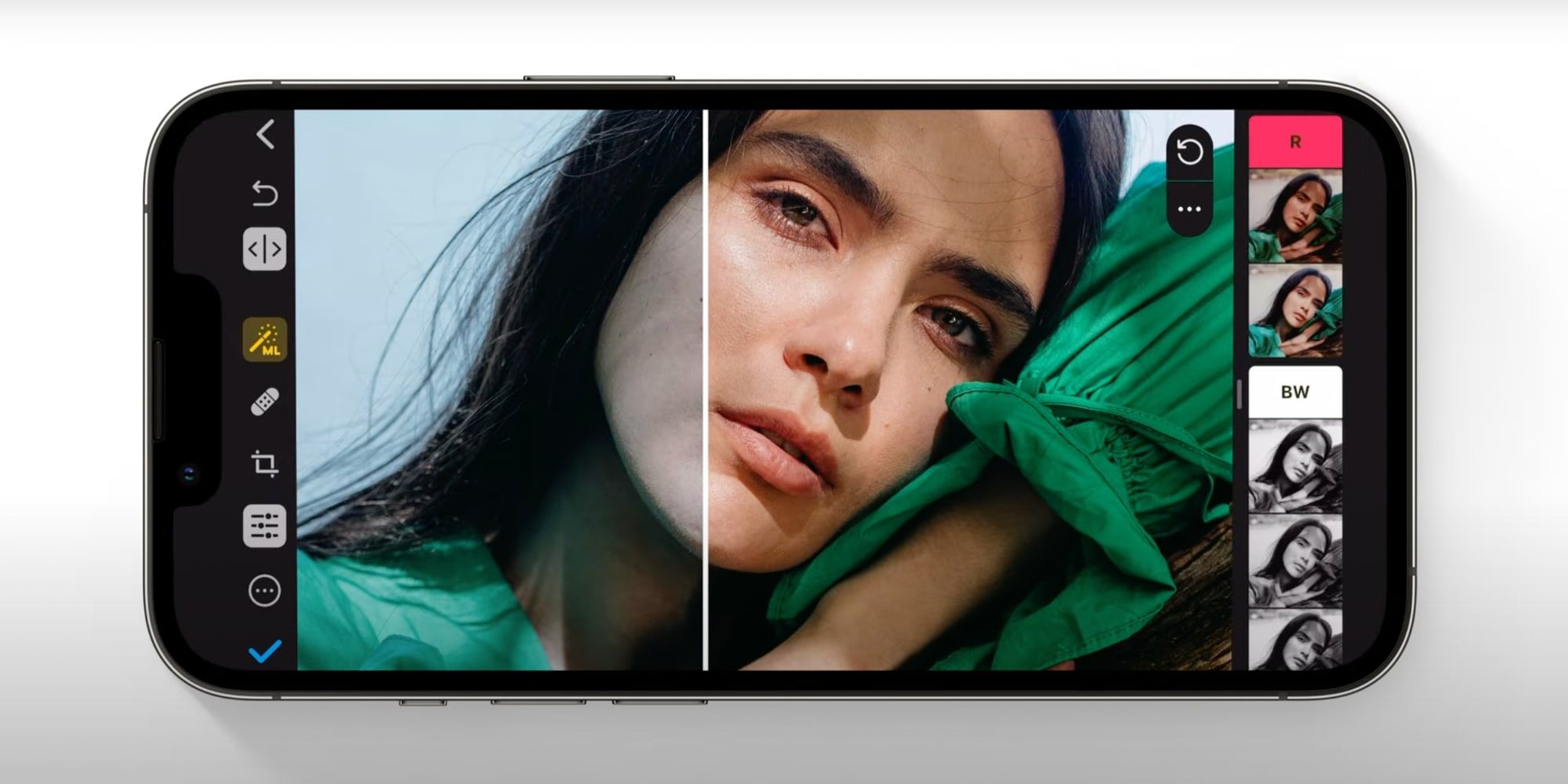 Pixelmator Photo includes several AI enhancement tools, including super-resolution which quadruples the size of a photo while using machine learning (ML) to recognize objects and edges and prevent pixelization. A one-touch ML enhancement tool brings overall improvement to brightness and color balance, while color match technology applies the color and shading of one photo to another. Object erasing simply requires the swipe of a finger and replacing the color of an object needs just a few taps.
The app has the ability to non-destructively edit over 600 RAW formats including Apple's ProRAW which is used in the iPhone 12 and 13 Pro models. An interesting new file system feature is the way it integrates with Apple's Photos app, saving directly but linking to Pixelmator Photo editing information like a custom file format without the need for the user to manage two types of files. An optional histogram shows red, green, and blue levels, while its before-and-after slider allows comparing effects to verify the changes are good before exporting. With so many powerful tools and effects, Pixelmator Photo is a great addition for any iPhone photography enthusiast.
Next: iPhone Macro Guide: Best Settings For Taking Close-Up Photos
Source: Pixelmator, App Store
Go to Source
Author: Alan Truly