During The Game Awards 2021, Plarium announced that actor Jeff Goldblum is leading the next promotional campaign for RAID: Shadow Legends. It was the first look at the upcoming campaign which showed Goldblum playing the epic fantasy collection RPG. RAID: Shadow Legends is available to play on both mobile and PC.
Related: Every Big Announcement & New Game Reveal At Game Awards 2021
Screen Rant spoke to Goldblum about RAID: Shadow Legends, comparing the game's characters to The Grandmaster, and a tease about what to expect in Jurassic World: Dominion.
Screen Rant: You're basically going to teach me about RAID: Shadow Legends because I'm just I'm learning about it now. What is Raid: Shadow Legends, according to Jeff Goldblum?
Jeff Goldblum: I'll do my best, but let's learn about it together because I'm kind of learning about it. Let's exchange information. Let's find out what you know, and I'll tell you what I know. 

I really did a bunch of commercials for it, so they filled me in on what it was, and they showed me a little bit of what it was like to play. Then I pretended to have experience – a lot experience – with the characters as if we were in all in the same world. 

So, what do I know about it? I think it's a game where the participant gets to do kind of what I did as Grandmaster in Thor: Ragnarok, which is be the manager of some gladiatorial events and adventures. You put together a team of fighters and combatants who have special powers, and there's all sorts of different ones you can choose from. I guess it's like being the coach of a team; it's like being Mike Tomlin, who's the coach of the Steelers – my beloved Steelers who are maybe going to win tonight against the Minnesota Vikings.

It's like that, and then these champions – these warriors that you put together – fight some bad thing. Villains of sorts, right? Is that what you know about it? Am I kind of on track?
I think you're on track. The Grandmaster comparison speaks to me.
Jeff Goldblum: That was good. Well, that's what he likes to do on his planet of Sakaar. And of course, I had my grand champion in that case, which was Hulk. My kids love Hulk; they are six and four, they're two boys. They have this Hulk that they already broke because they would fight with the figurine so much. 

I had Hulk. And of course, their little doll is bandaged up with a lot of scotch tape right now. They broke his shoulder blades, I think. And I pitted my guy against, of course, Thor. Chris Hemsworth, ooh. We know what happened with that.
Have you played a lot of the game? What's your favorite part of playing it?
Jeff Goldblum: Well, to tell you the truth, I really haven't. There's much more playing in my future than there is in my past. That's the good part of it. I looked it up today – everybody can Google it – and you can click on beginner tips. It says, "Greetings, heroes. Before you jump into the world of RAID: Shadow Legends, we have some handy early game tips for beginners to the realm." I like that; we're in a realm. "Our advice will help you get off to a strong start… and then earn those three-star ratings." 

"Equip your champions with full gear sets." Oh, I think you can somehow choose and get gear. Do you like gear? I always like to go in the ocean, just like an island boy, hunting for shells. I never wanted to put on all that stuff. But I think these champions need gear – their specialty gear. "Look at the champions available in the campaign, rank up low rarity champions. Don't neglect those quests." Oh, we're on a quest of some kind. Questing, yes. I love quests. "Don't give up on those drops." I don't know what the heck that is. I like cough drops, but I don't know what they're talking about. 

"Don't be afraid to fall in love with a team comp." Well, I don't know what a comp is, but this falling in love idea appeals to me. You know any songs about that? [sings] "Falling in love with love is like falling for make-believe…" I like that. "I fall in love too easily. I fall in love too fast." Yeah, that's a good one. [reads] "Don't forget about the tavern." I don't know what tavern we're gonna go to, but I like a nice beverage. "Don't leave home without a healer." What do you mean, somebody is going to get hurt? Healers? I believe in science. I'd like to take a doctor with me, but I think we're in another era and another place. 

Anyway, those are the tip for beginners, and that's where I'm at. So, I'll take those to heart.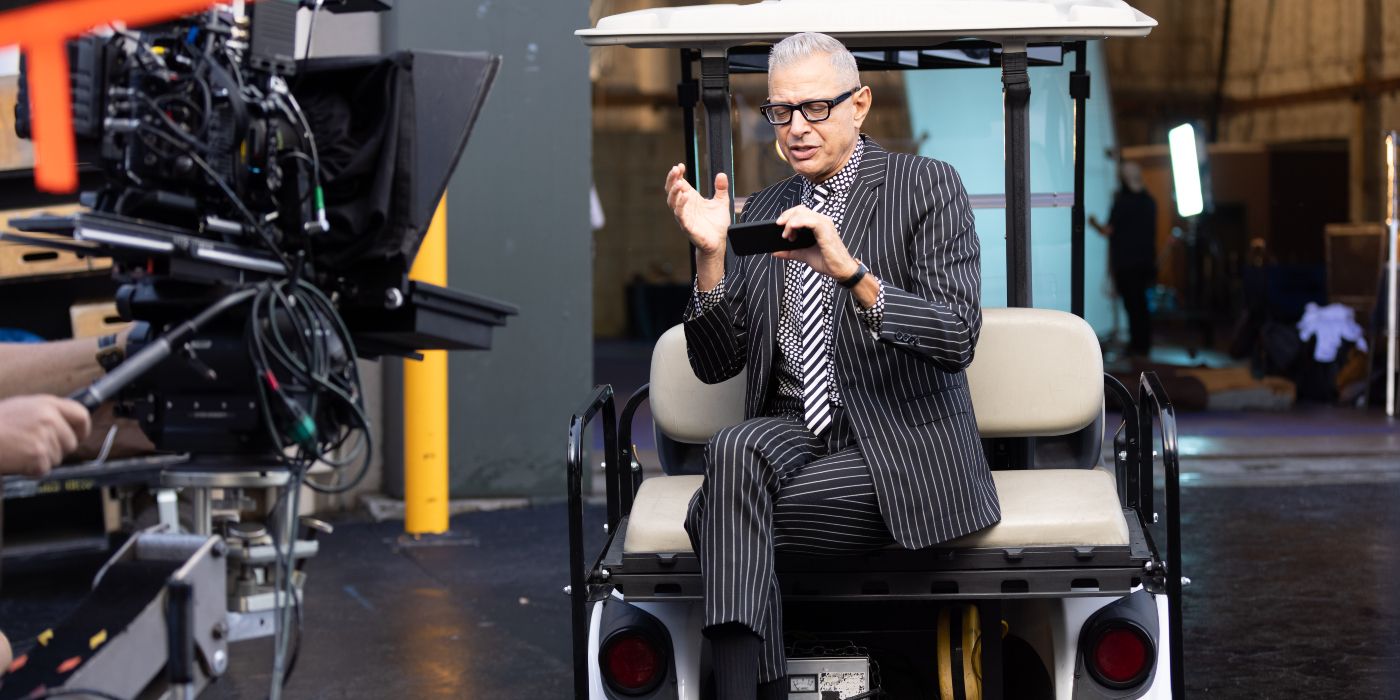 If RAID were turned into a movie, would you be in? And who would you like to play?
Jeff Goldblum: Are you kidding? I love to be in the picture shows. I still get a big kick. I can't believe I get to be in any of these moving picture shows. What type of champion would I be? Well, I'd like to be Grandmaster again. I'd like to be the coach of the team, but if you're going to put me into the fray – I think I'm using that correctly. Of course, fraying happens when you don't have your pants correctly. They can start to fray and some people like that. But, anyway, this is a different kind of fray. Would I be common or uncommon? 

In some ways, I'm an everyday Joe. I'm a regular Joe, but I'm uncommon and legendary – I see here – in that, I'm like Joe Magarac. you know who that is? Joe Magarac is from around the Pittsburgh area and Western Pennsylvania. I think he's like a Paul Bunyan character, but he works in the steel mills.
I had a feeling it was a Steelers reference.
Jeff Goldblum: Well, I don't think it's a Steelers reference, but I think it's Pittsburgh. Or maybe Pennsylvania – maybe Eastern. If we get feedback from anybody, see who knows Joe Magarac. But they know Johnny Appleseed, of course. What was the name Paul Bunyan's ox? Was it A) Blue? Was it B) Babe? Or was it C) Babe Ruth?

I'm not sure. I'm always with you, I'm learning as I go. Epic. It says here, would I be epic? Well, I like a nice epic. I was never part of these sword and sandal epics, but I'd like a nice leather mini skirt. I think I would look well. I don't know if you've ever seen my gams, my getaway sticks, but there's something well-formed about them. At least in my humble opinion.
I think everyone would agree. 
Jeff Goldblum: Oh, thank you. I like that movie, Ben-Hur. That's an epic picture that I saw early on. But you know who I liked the best? The bad guy, Messala, played by Stephen Boyd. I think because I liked him in that other movie, The Oscar. He played Frankie Fane, and his sidekick was Tony Bennett as Hymie Kelly. He had one piece of advice that he kept repeating: "If you lay down with pigs, you're going to come up smelling like garbage!" That was it. 

I'd do something that he might have done. How do I get onto that?
This is what we love about you. You're very curious and have a lot of interests. What's your latest discovery or new thing that you're into?
Jeff Goldblum: Well, I'm about to have lunch. I'm looking forward to something in my refrigerator now. I'm always discovering new food combinations, and I have a jar of marinated herrings down in the refrigerator that's calling my name right now. Because I had a very light breakfast, and I've had a productive and vigorous morning. I'm thinking of pairing it – and we can call it a discovery of sorts – with a leftover little Tupperware full of soba noodles. Yes, buckwheat noodles. I think that's a discovery. I don't know if I'm going to get a Nobel Prize for it, but that's a kind of discovery.

And the new thing that I'm into? Well, I tell you, I have been listening to a lot of these podcasts and watching shows on YouTube of physicists. I do like to hear people talk about what we know and what we still don't know, and what we imagine to maybe be true about the universe, the cosmos, the history of it, the beginnings of it, our consciousness, and our place in it. I like all that kind of stuff. String theory. Of course, I like string cheese. Nothing wrong with string cheese. And I like homage of all sorts.
Do you think we'll get another season of The World According to Jeff Goldblum?
Jeff Goldblum: You know, I don't know. But it's my fondest wish. That would be my most fervent wish. Are any other wishes I have that are more fervent? Let me see. No, that might be my most fervent wish. Oh, please. Starlight, star bright, please deliver us another season of The World According to Jeff Goldblum tonight. 

I don't know if it'll be tonight, but sometime in the next year. I hope so.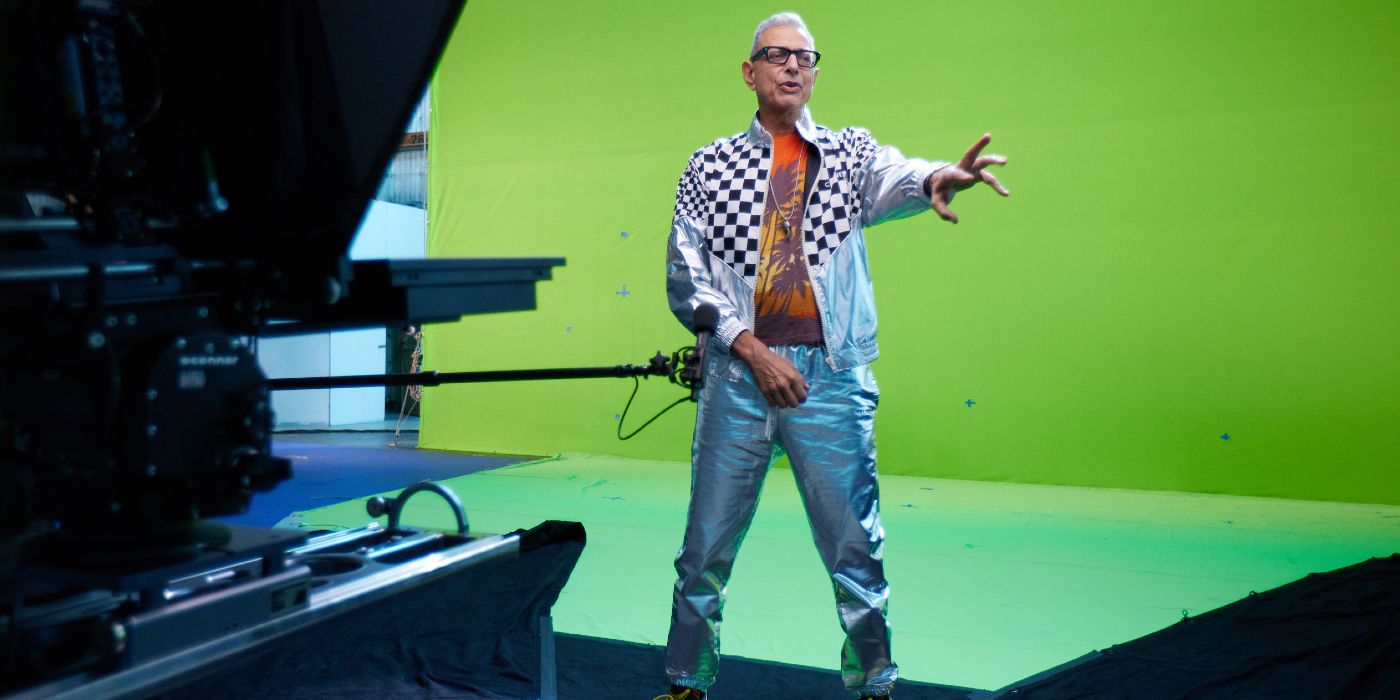 We saw some new pictures from Jurassic World: Dominion, and I'm so excited. 
Jeff Goldblum: How did I look in them? 
You know what? I saw a picture of Bryce Dallas Howard in a swamp. Are we getting another iconic Dr. Ian Malcolm shot? Because there is a pretty famous one.
Jeff Goldblum: I know the famous one. I don't know, I'll do my best. I did my best. I have not seen the finished film, but I'm very excited about it. 

I think it's going to be crackerjack, because not only does it have maybe a healthy dose of me – hopefully not more than you want, but I think there's a healthy dose – and certainly we can't get enough of Laura Dern and Bryce Dallas Howard. And Chris Pratt, Sam Neill, but also DeWanda Wise, BD Wong, Omar Sy, Mamoudou Athie, Dichen Lachman, Daniela Pineda, and Justice Smith. They're all in it. 

It's just a grand cast of – well, it's not a thousand, but it's a grand affair. I think that should be exciting and wondrous. I'm on pins and needles and tenterhooks if that's possible.
We are very excited. The Jurassic World landscape has changed a little bit since we last saw Dr. Ian Malcolm, so I'm very excited to see what he's up to.
Jeff Goldblum: Oh, yes. Wait till you see. Wait till you see, mmhmm. I don't know if I can give anything away, but I've got a sense of humor about me still here and there. I've got wisdom, and it's well-earned for all the pain that I've seen and suffering that I've been around. And [for the] planet that I care so deeply and passionately for, I've come up with some new possible nuggets of wisdom that may find their way into the atmosphere in the room. Who knows?
Congrats on everything. I've seen the new trailer, so I'm very excited about everything you've got going on. Is there anything else you want to say about RAID: Shadow Legends before I let you go?
Jeff Goldblum: Oh, my gosh. RAID. Well, it has nothing to do with that spray that kills bugs. You know that RAID. It's still probably handy to have around, but I would say don't tell anybody. Put them outside. I say to my kids, "Take them gently and put them outside. Just because we're the big, seemingly dominant figures around here… No, you can't imagine what all creatures are up to. Put them outside. Don't visit violence upon any of our fellow travelers." 

But that's right, Shadow Legends. I like anything shadow. We must embrace our shadow selves, otherwise, they'll be like hungry dogs locked in the basement. They'll just get louder and, when we let them out, they'll be violent. No, we must include and embrace and use and make use of and be allies with our shadows. 

Shadow Legends, of course. Legends. Okay, what can we say about that? Daniel Boone was a man. "Yes, a real man." Yes, and my favorite poem [by Arthur Guiterman]. It brings me to "Elbow room!" cried Daniel Boone." I'll finish with that.
Next: Dominion Can Be The Jurassic Park Sequel Fans Always Wanted
RAID: Shadow Legends is available to download on iOS and Android mobile devices, as well as PC through the Microsoft Store or the Plarium Play platform.
Go to Source
Author: Ash Crossan