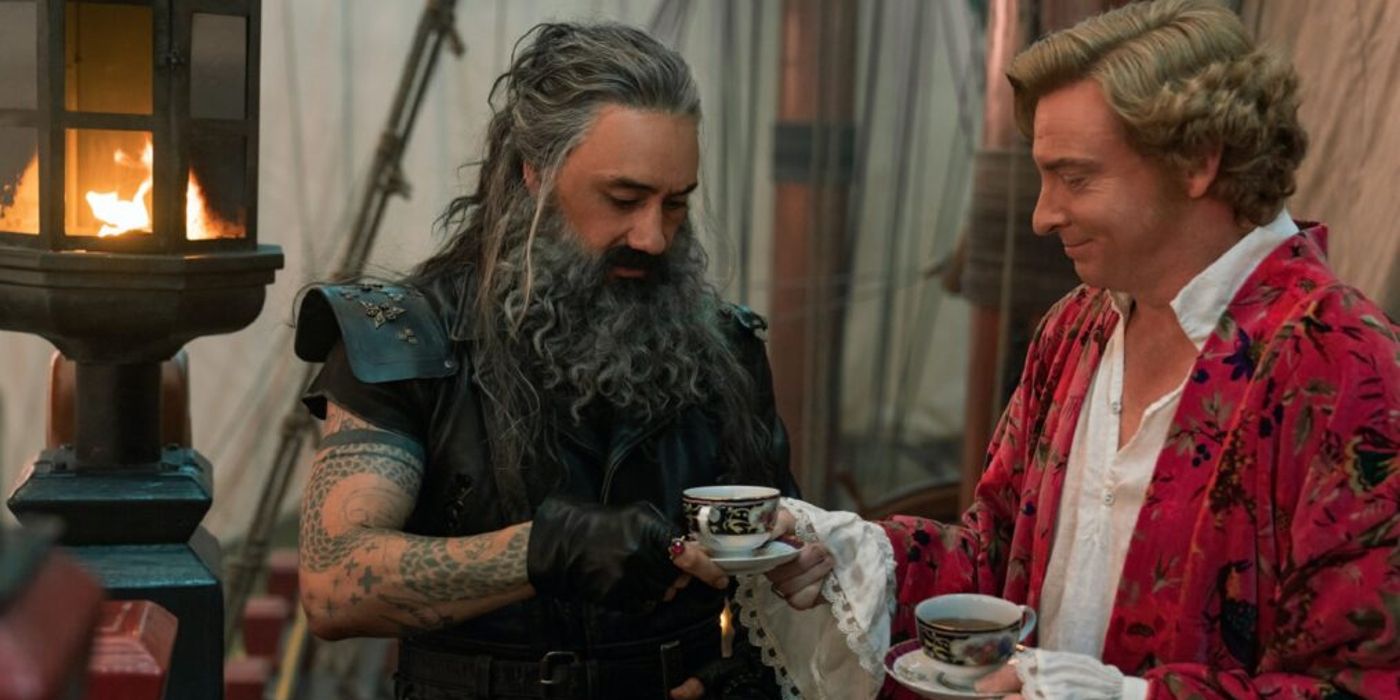 Creator David Jenkins has an update on the status of Our Flag Means Death season 2. The series was first released on HBO Max in March 2022 and quickly became a raving success. Our Flag Means Death's popularity only surged after its season 1 finale and the series is still impressively gaining support from new viewers.
Despite its incredible success amongst audiences and critics alike, Our Flag Means Death went months with no news on its season 2 renewal. To show their support for their favorite pirates, fans of the series kept #RenewOurFlagMeansDeath trending for weeks and eventually started petitioning. Worried that the show was at risk of being canceled, Our Flag Means Death fans started a letter-writing campaign to HBO Max expressing what they love about the show to strengthen its chance at a season 2 renewal. Fortunately, Our Flag Means Death was finally renewed for season 2 by HBO Max on June 1, 2022.
Related: Our Flag Means Death Already Teased A Huge Season 2 Villain
With HBO's go-ahead, work officially began on Our Flag Means Death season 2, and Jenkins has just given audiences a writing update. The creator shared a picture on his Twitter of the season 2 episode 1 script cover, telling fans that writing for the episode is complete. With the title censored, this image doesn't give much other information about the first episode. Although Jenkins also captioned the image with #justiceforluciusrip, suggesting that Lucius' (Nathan Foad) shocking death (?) will be addressed in season 2's premiere episode. Read Jenkins update below:
Click here to see the original post.
As the cast of Our Flag Means Death prepares to set sail on another adventure, they'll be changing course to New Zealand. Blackbeard actor Taika Waititi revealed that season 2 will be filming in New Zealand where the cast and crew will actually be surrounded by the ocean, unlike season 1 which was shot in LA, with much of their watery environment added in post-production. Waititi also announced that they hope to start filming Our Flag Means Death season 2 by October of this year.
It is currently unconfirmed if there are other completed episode scripts, but with an October start date on the table, it's likely that the remaining episodes of Our Flag Means Death season 2 aren't too far behind. Jenkins has already given some idea of what to expect from season 2, suggesting that Blackbeard and Stede will be trying to put themselves back together after the heartbreaking end to Our Flag Means Death season 1. With filming set to begin in just a few months, Our Flag Means Death is expected to release in 2023.
Next: Our Flag Means Death Theory Says Lucius Is Season 2's Perfect Villain
Source: David Jenkins/Twitter
Go to Source
Author: Ellisha O'Donnell